From classrooms to cars: when digital savviness trumps tech fads
Businesses can avoid innovation just for innovation's sake by having a strong sense of purpose. We take a look at some of the trailblazers
by Senay Boztas
Paid for byShares8
It seems almost obligatory these days for businesses to refashion themselves as tech companies. Products or services are reimagined as "digital solutions" with little regard to whether a digital solution is even actually necessary. As a result, businesses can end up adopting tech just for tech's sake.
This is why it can be so instructive to consider real-life businesses that have responded to hyped-up tech trends with savviness rather than faddishness.
One key differentiator between meaningful tech and innovation for innovation's sake is purpose. Laurence Kemball-Cook, the founder and chief executive of Pavegen, which produces special paving stones that can convert the kinetic energy of footsteps into electricity, believes that meaningful technology enables people to connect with their environment rather than simply populating spaces with smart devices in some vague nod to progress. The company's paving stones have been used in special installations in streets, shopping centres and offices in 36 countries around the world, powering such things as lighting and sensors. Its projects have included using the energy harnessed from people playing football on special pitches to power the floodlights.
"Energy from your steps is converted into electrical power: the down weight moves the floor 5mm, spins a flywheel for up to 10 seconds per step and produces five watts of energy," explains Kemball-Cook. "You can scale this up. If 2 million people go through every major London train station each night, say you could get 100 steps per person – there's a lot of potential kinetic energy there to harness."
Other businesses are using technological advances to help excluded groups connect with society. Norwegian startup No Isolation focuses on groups of people who have been neglected by much of the tech revolution, such as long-term sick children and older people.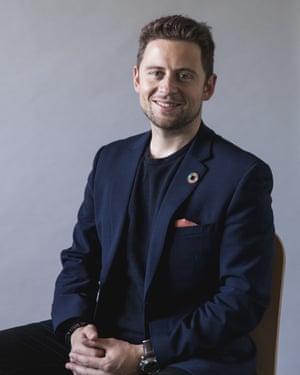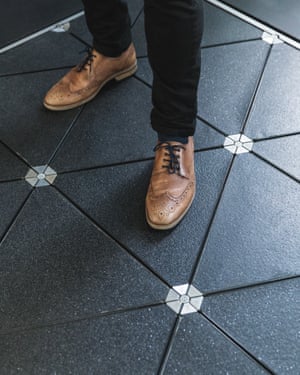 Pavegen founder Laurence Kemball-Cook; his company's paving stones convert kinetic energy from steps into electricity
Its AV1 robot acts as a proxy for children who can't attend school due to long-term illness so they can have a presence in classrooms. The company has also created a one-button computer to help elderly people who find it difficult to operate the touchscreens of conventional tablets and smartphones. For chief executive and co-founder Karen Dolva, canny innovation is about serving a group that needs help, rather than just trying to develop cool tech. "We wanted to work with inclusive technology after having been in the tech industry for a long time and seeing how most solutions only made efficient people more efficient, while certain groups were overlooked," she says. "We build solutions that work for the people who do not fit into the masses of consumers."
Indeed, the education sector as a whole has proved fertile ground for genuinely useful tech. Singer Björk created the album Biophilia to work with a package of apps that illustrate scientific and musical concepts as well as her music. The apps have been used in workshops worldwide and schools throughout the Nordics.
Nikki Dibben, professor of music at the University of Sheffield and part of the Biophilia production team, says that technology was vital to communicating the artist's ideas and a valuable teaching tool. For example, the game-like app Crystalline allows the audience to play Björk's track in a non-linear way, deciding their own order, while another app, Thunderbolt, teaches kids about musical arpeggios.
"On the page, an arpeggio has this jagged appearance and for her it was a visual and auditory metaphor for lightning," says Dibben. "In the app, if you change its appearance on the screen, it changes the arpeggio you are hearing. There's a direct connection between a natural phenomenon, lightning, the musical concept, the arpeggio and what you do with it on screen: the kids can learn about music theory structure and a natural phenomenon."
One other savvy deployment of new tech is in an area where humans have often underperformed: driving. Driverless technologies can tackle the problem of road traffic accidents caused by human error – as well as reducing the environmental impact of cars by making motoring more efficient. "There's a strong business, social and public health case for moving to driverless technologies," says Ryan Abbott, professor of law at the University of Surrey, who specialises in the impact of AI and technological advances. "Even though AI is not going to be perfect, and has already caused serious accidents, we only need it to be better than people … and that bar is pretty low when it comes to driving."
Adapt to thrive: how to stay ahead of startups
Paid for by Audi Read more
The key technologies for self-driving cars are artificial intelligence systems that incorporate real-time data from various in-car systems with data from the road infrastructure and other road users. For example, Audi is already moving into production an AI-based traffic jam pilot system that can take over driving in traffic jams or slow-moving traffic at speeds of up to 40mph, thanks to a multitude of sensors and radars. The human driver no longer needs to continuously monitor the car or the road, although special sensors ensure that drivers remain alert and capable of taking over again when prompted. The aim of the system is to increase the driver's "comfort time" as well as safety. Audi's stated purpose is to give its users a metaphorical "25th hour" – whether it's down time when they need a break or productive time when they need to get things done.
Likewise, other kinds of Audi assistance systems – from collision avoidance to 360° cameras – demonstrate practical applications of tomorrow's technologies. For example, you can control a vehicle's climate and send route information to the car from the comfort of your home by using the myAudi smartphone app. The myAudi app also enables you to check your electric vehicle's battery status and available mileage – as well as lock the door from anywhere you happen to be.
Audi has also integrated the Amazon voice service Alexa into operating systems in some models, not just to help select music, but also unlock the front door to your home, turn on the lights and open the garage door directly from the vehicle. From 2020, Alexa will be available in many more Audi models.
It is worth noting that Audi anticipated many of these features way back in 2004, when it developed the Audi RSQ concept car for the Hollywood blockbuster I, Robot, starring Will Smith. Of course, that film was sci-fi.