Ikea to close first big UK store, putting 350 jobs at risk
Swedish chain says Coventry city centre store loses money and will shut this summer
Tue 4 Feb 2020 12.10 GMTLast modified on Tue 4 Feb 2020 16.07 GMT
Shares49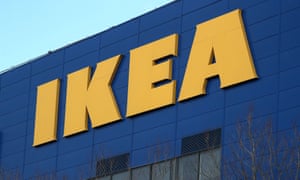 Ikea is to close its Coventry city centre store this summer, marking the first closure of one of its big UK branches, putting 350 jobs at risk.
The Swedish furniture chain says the shop has consistently lost money since it opened in 2007, and the number of customers in the store has declined as they opt to shop at retail parks or buy online instead.
The retailer says it will enter consultations with the 352 employees affected by the closure and would like to retain as many as possible in the company. It said it would help Coventry staff with "finding a future" at its stores in north-west Birmingham and Nottingham, approximately 30 and 50 miles away.
According to property consultants Altus Group, the departure of Ikea could knock a hole in the city's finances, as the store is its 11th biggest business rates payer, handing over nearly £1m a year.
Advertisement
The IKEA closure is the latest blow to the UK's high streets and retail sector. According to the Centre for Retail Research more than 140,000 retail jobs were lost last year and more than 10,000 more have been cut since the beginning of January. Department store group Beales and toy shop chain Hawkin's Bazaar are the latest to have collapsed into administration.
Retailers have been hit by a combination of factors ranging from higher costs, including minimum wages and business rates, and a big shift to online shopping.
Coventry was one of Ikea's first attempts at opening a new format, city centre store to respond to the changing habits of its customers. Thousands of people queued up to enter the store on opening day, just before Christmas in 2007, and extra police were drafted in to control the crowds.
But its popularity has since dwindled, and Ikea blames the size of the seven-storey building for its higher operating costs and says it has been unable to make the store more cost-efficient or repurpose it.
Peter Jelkeby, the country retail manager and chief sustainability officer for Ikea UK and Ireland, said the Coventry closure was not an easy decision, but was it was important for the long-term success of Ikea in the UK.
"At Ikea we are constantly challenging ourselves to find ways to meet the needs of our customers and we will continue to try and test, investing in stores, fulfilment centres, city centre formats and our digital capabilities to make Ikea even more affordable, convenient and sustainable.," he said.
In recent years, the chain has trialled opening smaller city centre outlets, on Tottenham Court Road in central London and Bromley in south-east London, to attract a different range of customers who do not travel by car to visit its usual "big box" stores. Ikea currently has 22 UK stores and says it is still focusing on growth, despite what it calls a "changing retail environment".
In January, Ikea bought the Kings Mall, a shopping centre in Hammersmith in west London, which it plans to redevelop, and is understood to be looking for more malls in the UK. The chain already owns 44 malls globally, which it built itself. Ikea said last October it had strengthened its UK property team as it looks to take advantage of bargain prices in Britain's crisis-hit retail property market to secure smaller and more accessible sites in city centre locations.
Ikea's Coventry store has a prominent position in the city centre. The large and distinctive-looking building will close in the summer.