Opec discusses coronavirus as Chinese oil demand slumps – as it happened
Oil cartel and its allies including Russia meet in Vienna after oil enters bear market
Calm returns to world stock markets, which rise for a second dayIraq: Opec considering output cutChinese oil consumption down 1m barrels a day due to virus – BPUK construction falls at slowest pace since MayClosing summaryUpdated 2h ago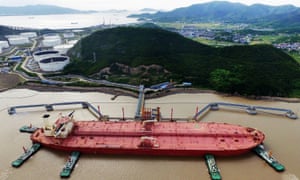 Tue 4 Feb 2020 14.57 GMTFirst published on Tue 4 Feb 2020 07.58 GMT
Shares7
2812h agoClosing summary2h agoIraq: Opec considering output cut4h agoLunchtime summary6h agoSterling rises after falling through $1.307h agoUK construction falls at slowest pace since May7h agoRussia 'ready to cooperate' with Opec8h agoOil in a bear market
Closing summary
World stock markets are up for a second day, as fears over China's coronavirus epidemic faded somewhat and measures by the country's central bank helped calm nerves.
The FTSE 100 index in London is 1.48% ahead while Germany's Dax is 1.52% higher and France's CAC has gained 1.42%. On Wall Street, the Dow Jones has climbed 1.32%, the Nasdaq is up 1.23% and the S&P 500 has risen 1.17%. Asian markets saw similar gains.
Sterling has recovered after falling sharply yesterday and this morning on hard Brexit fears, below $1.30. It is now at up 0.19% at $1.3016, and 0.34% higher against the euro at €1.1787. A stronger construction survey helped lift the pound.
And in Vienna, technical experts from the Opec oil cartel and its allies including Russia are meeting to discuss potential production cuts. Chinese fuel consumption has slumped following the virus outbreak. Any cuts to supply would only be announced at a meeting of energy ministers, according to Iraq's oil ministry spokesman Assem Jihad. Ministers could hold an emergency meeting in mid-February.
With this, we are saying good-bye. We'll be back tomorrow.
Iraq: Opec considering output cut
Members of the Opec oil cartel and their ally Russia are discussing a further cut to crude oil output at their meeting in Vienna due to China's coronavirus epidemic, according to Iraq's oil ministry.
Crude prices have tumbled since the deadly outbreak in China, the world's biggest importer of oil.
Iraq is Opec's second-biggest oil producer. The Organization of the Petroleum Exporting Countries and its allies are holding a meeting of a "joint technical committee" in Vienna today and tomorrow to assess the situation.
Iraq's oil ministry spokesman Assem Jihad told AFP:
Depending on the needs of the market and how it's been affected by the coronavirus, will a cut be necessary? This is being discussed as the technical reports are presented. The technical committees are discussing the recommendations, which they will elevate to their ministers. Any further cut to outputs would only be announced in a ministerial meeting.
Jihad said those gathered would also consider bringing forward a March ministerial meeting to February "depending on the market's needs and what happens with the virus".
Russian energy minister Alexander Novak also said the schedule could be changed. He told reporters:
We have a meeting in March but we can hold it earlier if necessary.
The new coronavirus has killed more than 400 people and infected a further 20,000 in China since emerging in December, and has also spread to more than 20 other countries.
Brent crude has fallen by around 20% since early January while the US benchmark oil contract, WTI, has fallen by around 18% over the past month.
Saudi Arabia, the world's top oil exporter, said this week that the impact of the virus on oil demand was "extremely limited" and "driven by psychological factors".
But if the virus continues to spread, there could be a more severe hit to the market, said Neil Wilson, chief market analyst for Markets.com in London. "This kind of oil demand shock has not been seen for over a decade. The longer the lockdown in China and travel restrictions globally, the greater the impact.
The 13-member Opec cartel regularly meets with non-members led by Russia over how to influence oil prices, in a group called Opec+.