Sonos Move review: brilliant sound now portable
Sonos Move review: brilliant sound now portable
5 / 5 stars5 out of 5 stars.
Wireless smart speaker with 10-hour battery, room-filling sound, wifi and Bluetooth is not your ordinary portable speaker
Samuel Gibbs Consumer technology editor
Tue 14 Jan 2020 07.00 GMTLast modified on Tue 14 Jan 2020 07.20 GMT
Shares24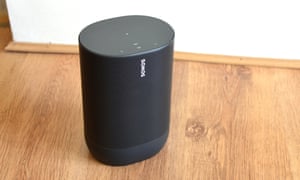 Sonos has finally made a portable wifi and Bluetooth speaker that sounds great – but it's not quite what most will have imagined.
For years Sonos has made some of the very best wifi speakers, recently adding optional voice assistants from Google and Amazon. But they have never been truly wireless, needing to be plugged in and on your home wifi network.
The Move changes that, essentially taking the excellent Sonos One and adding a battery to the bottom. But it comes at a hefty £399 price tag, although some retailers already have it at £329.
One + battery = Move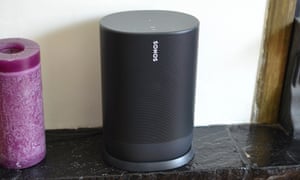 The Move is slightly larger than the One. It is taller, wider and more of an oval shape than a squircle. The top still has the microphone array and mute button for your chosen voice assistant. The touch-sensitive pause/play and volume buttons still work great.
In the back is a handle for carrying the speaker, plus a power button, a connection button used for setting it up and the new wifi/Bluetooth switch button.
The battery sits in a large rubberised base. The whole thing drops neatly into a small oval ring pedestal for charging but there is also a USB-C socket for charging on the go.
Specifications
Dimensions: 240 x 160 x 126mm
Weigh: 3kg
Connectivity: wifi b/g/n/a, Bluetooth, USB-C, AirPlay 2, Spotify Connect
Battery: 2,500mAh for 10 hours playback, 120 hours standby, three hours to charge (900 cycles/three-year lifespan, replaceable)
USB-C charging: USB-PD 36W at 12V/3A or 15V/2.4A or 45W at 15V/3A or 20V/2.25A
Water resistance: IP56 (heavy rain/snow/fine dust), UV, extreme temperature, shocks
Portable, sort of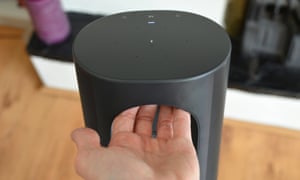 To say this is a portable Bluetooth speaker would be simultaneously over- and underselling the Move. The Move is water and dust resistant, and durable enough to survive the odd drop, so you absolutely could take it to the beach or the park. But it weighs 3kg, so you are not going to want to lug the Move around in quite the same way you might a 608g Ultimate Ears Boom 3 Bluetooth speaker.
Instead, you are more likely to carry it around the house with you or into the garden for a bit of outdoors music. Carrying it about the house, the wifi connection is rock solid. It even managed to get a strong enough signal on the patio but a trip down to the end of the garden required switching to Bluetooth.
Setup and controls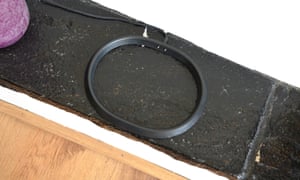 As with all Sonos speakers, setting up the Move and controlling it with the app is easy. Download the Sonos app on your iPhone, iPad or Android device, sign up for an account and add the speaker to your wifi network by pressing the connection button on the back of the speaker and following the instructions.
Then add any music streaming accounts you have – Sonos supports practically everything including multiple Spotify accounts and playback from local network drives – and start playing music. The beauty of the Sonos system is that it can search all of your music services at once, so you do not need to remember where your music is stored.
Bluetooth playback is equally simple: press the Bluetooth button on the back and pair it with your phone, tablet or computer just like any other Bluetooth device.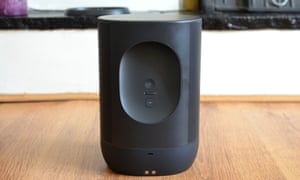 The Sonos app will also guide you through adding a voice assistant to the Move, although it is purely optional. If you do, the Move works just as well as a One, which makes it one of the most adaptable and best-sounding smart speakers available, with the ability to switch between Alexa and Google Assistant.
If you want to control the speaker directly, it supports Spotify Connect and Apple's AirPlay 2 as well.
Premium sound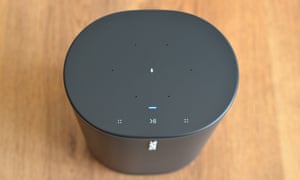 The Move is designed to sound like the excellent One, which is a very good thing. You get punchy lows and mids, sparkling highs and a well-balanced, rich sound that is perfectly at home blasting you with high-energy EDM before mastering the subtleties of Holst's The Planets. It is actually a bit more forward and louder than the One, which makes it better suited for jaunts outside.
It is also the first Sonos speaker to have automatic Trueplay tuning, which adjusts the audio output to sound its best when you move the speaker to a new location. Previous Sonos speakers can do a similar thing but it requires you manually waving an iPhone or iPad about your room as the speaker blasts you with what sounds like alien weapons from a sci-fi film.
Trueplay only works on wifi, not Bluetooth, but the Move sounds great indoors or out without any tweaks. It is arguably the best-sounding portable speaker you can buy.
Observations